Specials
>> Check out our financing specials Click for details
>> Save $150 when we receive your burner for cleaning by July 31. Download burner cleaning forms at right or click here to learn more about our factory authorized burner cleaning services.
>> ASA Members save 10% on new equipment including boilers, heaters, and radiant heating systems. Request a quote or contact us to discover how much you could save in heating costs.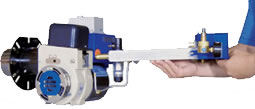 Clean your Shenandoah B-5 or B-10 burner every two years or 1500 hours.
At the heart of all Columbia used oil fired boilers and Firelake used oil fired heaters is the patented Shenandoah burner with its easy-to-clean patented slide-out gun assembly. It maximizes the BTU output of the fuel and burns the used oil cleanly. The manufacturer recommends cleaning the waste oil burner every two years or 1500 hours to ensure top performance and long life.
Questions? Contact us online or call us toll free (in the USA) at 1-800-261-1041 or (253) 872-6060 to order by phone or talk with a Shenandoah burner specialist.